"Poor kids can't afford $300 baseball bats," exclaims the headline of a recent Washington Post article, which immediately concludes: "This incredible warehouse solves that."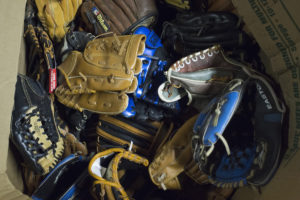 We also believe a kid shouldn't have to be rich to play baseball. But all too often these days, that is the sad reality. It's not cheap to play any sport, especially baseball, and the high cost of quality equipment can often be a roadblock to participation. Max Levitt — founder of that 'incredible warehouse' mentioned by the Washington Post — noticed this troubling trend. And he decided to do something about it.
In 2013, Levitt launched Leveling the Playing Field, a non-profit organization in Silver Spring, Maryland that collects used sports equipment donated by the affluent and passes it along to those in need, free of charge. To date, his organization has donated $1.4 million of sports equipment to 250 programs in the region, preventing many from folding because of equipment shortages. It is one of several efforts around the country using the surplus of the haves to help the have-nots.
We applaud Mr. Levitt. Organizations like these are vital in promoting baseball to children regardless of their economic background. So much used equipment sits idle in garages and attics across the country. Imagine how much good could be done if even some of that were to be donated so that a child might play?
Read the full article here.