At long last, iconic bat maker Louisville Slugger is offering bespoke bats to the masses (they're not just for professionals any more), following scores of smaller-scale competitors who have offered this service for years.
The unveiling of Louisville's sluggercustombats.com is the first of a two-part launch of its new customization program.
Phase One, which just launched last week, allows for personalization of "Fan, Collectible & Special Occasion" bats, i.e. souvenir bats not fit for gameplay. In May, however, the company says it will add Phase Two: the ability for customers to design their own MLB Prime bat, Louisville's highest-quality wood bat used by many Major League players, and therefore meant for use in actual games.
We checked out Slugger's online bat customization tool for you. We'll walk you through the process — complete with detailed screenshots — and give you our opinion of this new offering from one of the major players in the bat industry.
First Impressions of Slugger's Online Customization Tool
The website's splash page presents a rainbow of crisp, colorful product images and a centrally-located "Start Here" button. Hard to go wrong there. Customizing a Slugger souvenir bat provides the customer with three avenues of inspiration.
The Three Slugger Customization Options
1) Personalize an MLB Logo Bat: This option asks the user to choose a favorite MLB team and places the licensed team logo onto a bat with that team's proper color scheme. The Colorado Rockies bat is especially striking, featuring a black handle, purple barrel, and metallic silver engraving. 

2) Personalize for a Special Occasion: The "Personalize a Special Occasion Bat" option lets the customer commemorate a variety of popular milestones on a bat, including:
Breast Cancer Awareness
Births ("It's a Girl!/Boy" on a pink or blue bat)
"Happy Birthday"
"#1 Dad"
The more generic, "Congratulations"
"Happy Father's Day"
Weddings (complete with wedding bell art)
This option also allows the customer to select an ultra-cool vintage-look bat with a natural clear varnish and the classic Babe Ruth-era Hillerich & Bradsby logo with the electrified "Powerized" logotype.
3) Design and Customize from Scratch: The third option, "Design from Scratch", allows for the most creativity, combining all possible customization capabilities into one easy interface. Here a misguided fan could do terribly unnatural things like place a red Cardinals logo onto Cubby-blue colored bat, and also add metallic color choices into the mix!)
Slugger Online Customization Step 2
All three of the above options provide up to two lines (25 characters each in four possible fonts) of custom text on the barrel. Here you can add names, dates, messages, or other non-obscene verbiage (don't even think about it – Louisville Slugger won't print a bat with bad words on it; and you shouldn't either!).
Fans may also design their own pink breast cancer awareness bats, ribbon-bearing replicas of the bats swung by Major League players every Mother's Day. Get one of those and feel good about it: a portion of the proceeds support MLB's breast cancer charities.
And a reminder that none of these bats are suitable for actual baseball play – these are designed to add to your collection, decorate a home and really just sit there and look good.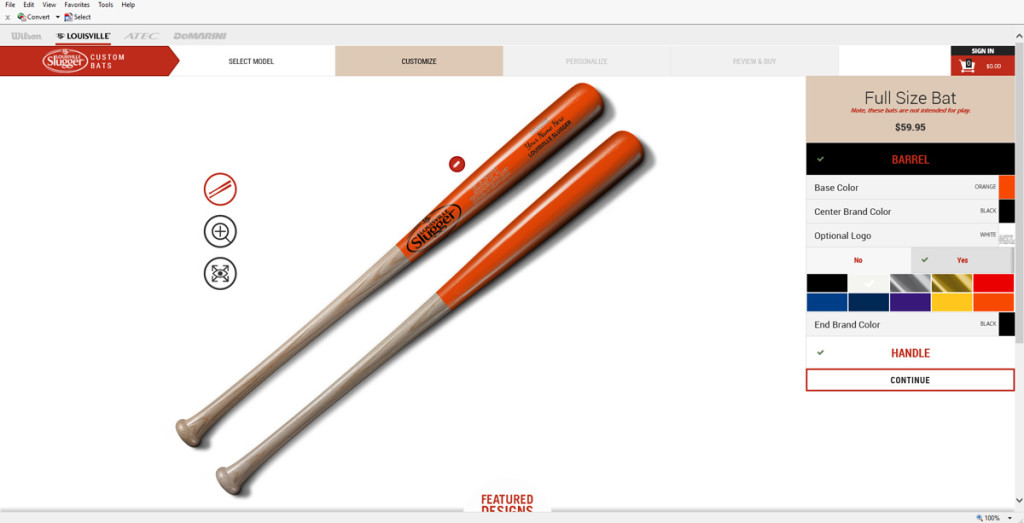 Price of a Custom Louisville Slugger Bat
Made in the USA, prices range from $24.95 for mini bats to $49.95 for youth model bats, up to $59.95 for custom adult-size bats. Slugger says customers can expect their order to be delivered in three to four weeks.
Customizing Our Own Slugger: The Verdict?
We like it – but with a few caveats.
The Good
The site is slick and intuitive with a simple-to-use interface. Our custom-designed masterpiece was brilliantly rendered as we dreamt it up. What more could one ask from a custom bat website!?
Well, a few things actually.
The Hopeful Next Step
First, and most glaring to us: there is no option to upload our own artwork.
A great many travel teams have passionate players and parents who would love to show off bats like that. Not to mention, these teams often have funky names and original logos that would look sharp on a Slugger — especially when presented to a beloved coach or team MVP at season's end.
In addition, many businesses could use fully customizable bats as trophies for sales awards or to honor other achievements. However, they'd most likely avoid using them as gifts if they can't add their own company's logo.
For their part, though, Louisville Slugger personally told us in an email that it would definitely be a neat function and that they'll share the feedback with the team.
Last, and maybe this is already in Slugger's plans, but many more options could and should be added to the menu of the seven "Special Occasions" currently available. We've done our research and are certain that a few others exist, like Anniversaries, New Year's, Christmas, Valentine's Day, etc. The main occasions are covered, but this would be a nice addition (that could also help them sell a few more custom bats!)
Nice job Louisville – and bring on that MLB Prime custom site!