On this day, July 24th, in 1983, The Kansas City Royals' George Brett (also of Brett Brothers fame) gave the Baseball Bat perhaps its greatest 15 minutes of fame.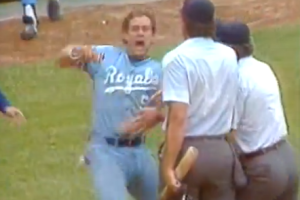 Relive the moment in the video below, and watch as the Yankees hand the bat to Tim McClelland, the home plate umpire, a half-dozen umpires and coaches circle together to inspect the bat, McClelland then places the bat over home plate to measure it's pine tar, just before using it to point out Brett in the dugout to tossing him from the game.
Where is the bat now?
The famous bat is in the hall of fame. But it wasn't an easy road. According to the NY Times:
It [Brett's pine tar bat] did not get to Cooperstown directly. Brett first sold the bat to collector Barry Halper for $25,000. Realizing it should go to the Hall instead, Brett got it back from Halper six months later for the same $25,000 price. In thanks, he gave Halper the bat he used to hit three homers in a 1978 playoff game.
We at BaseballBats.net appreciate Brett and McClelland for giving the Baseball Bat a truly amazing shining moment in history.