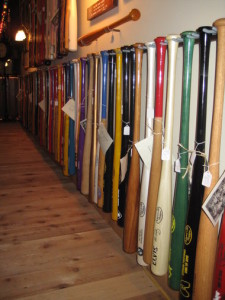 At BaseballBats.net, we are constantly asked how to choose a baseball bat. After years of following the bat industry, our most important piece of advice when choosing a bat is to realize that there are a number of factors that must be taken into consideration. These include:
Level of play
Size and level of the hitter
Appropriate association stamps
Cost
Comfort
Secondly, and this may seem obvious, but know that batters generally prefer aluminum and composite baseball bats to wooden bats due to their light weight and high strength (note: pro players are allowed to use wood bats only). Additionally, aluminum and composite bats can provide more "pop" of the ball off the bat, and tend to be more durable than wooden bats (e.g. they don't break!).
Light vs. Heavy
Next, younger hitters generally prefer lighter bats to heavier bats. This is because lighter bats allow the hitter to generate enough bat speed to more effectively launch baseballs (although there are restrictions about bat weights at some levels).
Also, bats today are becoming increasingly high tech and expensive – with youth bats reaching $300+ price levels. You can check out some specific bat brands and their prices in our Bat Brand Directory.
Comfort Matters Most
But what is the most important factor in choosing a bat? Comfort. The comfort of the baseball bat to the hitter. Because as with any piece of sports equipment – whether it's a baseball glove, swimming cap or hockey skates – the more comfortable the hitter is with the piece of equipment, the better he will perform.
Therefore, if possible, have the future batter take a few swings with the bat while picturing himself in a game. Better yet, have them borrow and use, in game, the same bat from one of their teammates to see exactly how it feels. This is because a swing in the store doesn't always feel like a swing at the plate! And if that exact same bat is not available, have the hitter try the next best thing: a similar bat from last season or the same bat in a minimally different size.
A swing in the store doesn't equal a swing at the plate!
Actually using the bat is important because, when choosing a bat for younger players, you must make sure they can swing it without struggling. We've all seen the young players struggling to swing bats that are far too heavy and/or long for them. If you as a parent, family member or friend are not particularly knowledgeable about the baseball swing and mechanics, then have a knowledgeable coach or hitting instructor watch your son swing with some different models/sizes/weights to see which one meshes best with his swing.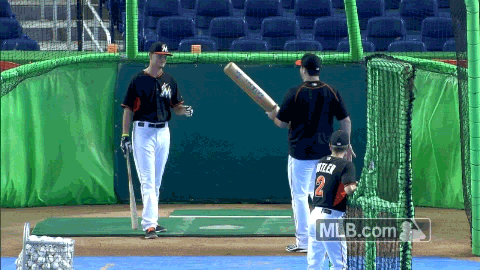 Remember to consider the speed and level of pitching the hitter will be facing. Just because a hitter can get a heavy/endloaded bat around while dry swinging it, doing slow work with it, or even while hitting at the batting cage, doesn't mean he will be able to do the same against the game-day fastballs and sliders he'll be seeing. Level of Play & Regulations
The level of play should always be a consideration in choosing a baseball bat, as every level from little league through major league has different regulations regarding what bat sizes and materials are allowed. For instance Little League has it's own set of rules requiring a specific Little League stamp for the bat to be legal for use, requiring many levels of play to use 'small barrel' (2 ¼" barrel) bats, and has specific rules regarding composite bats at different levels. Please be aware that Little League will be (once again) changing their bat standards in the near future, and will require all Little League bats to carry a brand new stamp. That means all existing Little League stamped bats will no longer be legal for play.

What's known as 'travel/tournament ball' generally uses USSSA bat rules, and most any USSSA 'thumbprint' stamped big barrel bat is legal for use in most travel ball tournaments.

High School (HS) and college ball use BBCOR bat standards, and mandates the use of BBCOR stamped bats which are -3. Also, some tournaments (like Triple Crown) require the use of BBCOR bats at their tournaments beginning at 14U. The best rule of thumb is to do your homework regarding bat regulations for your slugger's league and tournaments, prior to shopping for their new bat.
Baseball bats are measured using their length to weight ratio. A 30/20 bat is called a -10, which means that the weight is ten ounces less than the length in inches. The most common 'drop weights' you'll see are -12 (generally only used by very young hitters), -10, -8, -5, and -3 for BBCOR bats. Most pro level/high quality wood bats are -2/-3, while some wood bat companies offer wood bats in lighter drop weights but the less dense wood makes the bats more prone to cracking. Youth bats generally come in lengths ranging from 25"-27" (for younger players), through 28"-32" for most 10-14 year old hitters. The only two things that really need to be considered regarding bat length, is hitter comfort and the ability to cover the entire strike zone.
Wood Baseball Bat Materials
A quick word about wood bat materials… ash bats will tend to be a little lighter than maple bats in the same length and turning model and be a little more forgiving, while birch feels like a maple/ash hybrid. Since maple is a denser wood, some feel that they get more 'pop' swinging maple over ash. When first transitioning to wood, many hitters feel more comfortable starting out with more forgiving ash then trying out maple and birch.
Baseball Bat Drop Weights
And another, final, quick word. This one on Drop Weights. While certainly we don't want hitters to swing bats that are too heavy for them, do realize that bats with more mass will give you more distance on hits (so long as bat/swing speed doesn't suffer). Also, since -3 BBCOR bats lie ahead for every player headed for HS ball and beyond, keeping hitters in high drop weight bats (e.g. -10, -12) too long can interfere with a smooth transition to a -3 BBCOR when the time comes.
Doing your homework and becoming informed, are your two best friends when getting ready to purchase that shiny new bat that your slugger will (hopefully) feel comfortable bringing to the plate all season long.
---
Check out our page detailing the different types of bats, and then ask any more questions on our Baseball Bat forum, which is the most active bat forum online!