With the institution of BBCOR bat regulations, as youth hitters move towards High School and college ball, hitters have been given some obstacles — and some solutions and innovations — when it comes to bat choices. BBCOR testing standards tend to result in bats with tightly regulated performance. Because of this, weight, feel, and comfort are very high on the list of sought-after bat traits as hitters move down to a very wood-like -3 weighting. One of the very cool innovations of the new move to BBCOR has been wood/composite hybrids, and that market has been led by Baum Bat. But how do they perform and feel? We got a chance to take one out for a test drive, and here's what we found.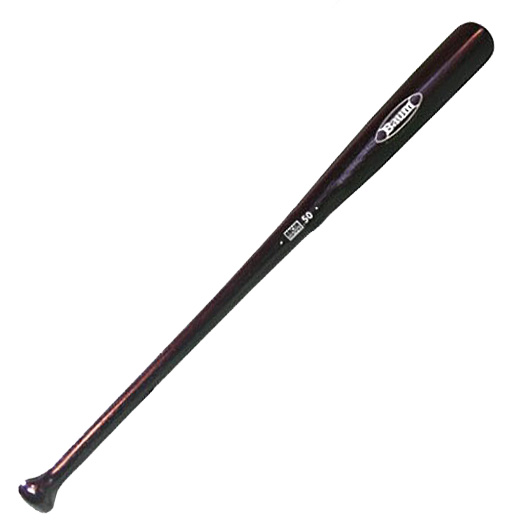 First Impressions
Very much the look of a classic black wood bat. Black bat with the white BAUM logo, white BBCOR stamp, and nothing else, this bat kinda says 'old school classic' when you pull it out of the box. Just from looking at it, you really wouldn't think it's anything more than a traditional profile black wood bat. Finish was very nice, with no burrs or imperfections in the wood.
Material/Design
One-piece ash/composite hybrid.
Weight/Size
Size tested was a 32/29. Actual weight… 28.9 oz. Swing Weight: Certainly it is a -3 as BBCOR's must be, but weighting is nicely balanced. Of course it's not going to swing like that -12 LL bat from a hitter's 9U days, but our accomplished hitters had no problem getting this bat around. With it's incredibly accurate actual weight and nice balance, we found this bat to be a very nice choice for hitters who are making the transition to BBCOR as well as those who simply like the wood aspect and performance of it.
Barrel/Profile
Found this bat to be quite similar in profile, barrel, and feel to a 110 turning model. Barrel size didn't feel as huge as sat an I13 turning model or a 243, but that also made this bat feel like it got through the zone quicker as well. Comfortable knob with a bit of taper, it felt easy and comfortable on the hands to swing.
Grip
As this bat's exterior is wood, grip is something of a preference issue. With some tacky batting gloves we had some hitters that swung this bat without adding much of anything, while others might go with a little pine tar or add a Lizard Skins grip which is a Baum Bat factory option. The flare at the knob was quite comfortable, pinky wrapping/dropping was also done with ease, we really liked the design on this end of the bat.
Performance
Was a bit unsure if the ball would come off of this bat like swinging wood or 'something else', but we were absolutely impressed with the performance of this bat. While the ball came off the bat with a very wood-like 'crack', the pop and distance showed something a little beyond traditional wood (especially ash). Balls hit off the sweet spot had great carry and distance, and seemed to have a bit more authority than some shots hit with alloys or composites.
Maybe it's just how many of our hitters have used wood for so many years in their work, played in wood bat tournaments, or just like the idea of swinging wood, but bringing a wood bat to the plate seemed to generate a bit of extra grin and swagger in some of our stronger hitters. I really think the performance of this bat would rival that of any BBCOR, and the feel of wood really gives this bat an edge in the BBCOR market.
Durability
All the cool ball marks you'd expect to find on a wood bat, with hundreds of cuts on it. Bat is holding up extremely well, being no worse for wear from lots of cage and gameday cuts on it. Really like the way a wood bat starts to look as it gets used more and more, and this bat is starting to look like old faithful coming out of the bat rack.
Overall
We are very impressed with this bat, and think it is an option any hitter should consider when moving to BBCOR. Balance and actual weighting made this bat very easy to swing for a -3, performance was very impressive, and possibly best of all was the great feel of swinging wood. If your hitter is first moving to BBCOR this bat would be a very nice choice as he'll be able to get it around without much difficulty, and if he's an experienced BBCOR hitter he can judge the bat's performance and feel (which we think he'll really appreciate).
We really think Baum Bats has come up with a winner here, and this bat is already looking like a favorite with our hitters for their choice in what they'll be swinging this fall.
---
Check out all of our Baseball Bat Reviews >