In many parts of the country Little League baseball is becoming extinct, so other than their reputation for making the TechZilla Little League bats for the boys who could move the lower drop weights around, I knew little about Anderson bats from a hand's on perspective. When I heard that they were releasing an elite -5 big barrel bat and had the opportunity to check one out and put it through it's paces, we jumped on it. Are Anderson bats just for Williamsport… can they hang with the big boys in the big barrel/travel baseball world… read on, and you'll find out.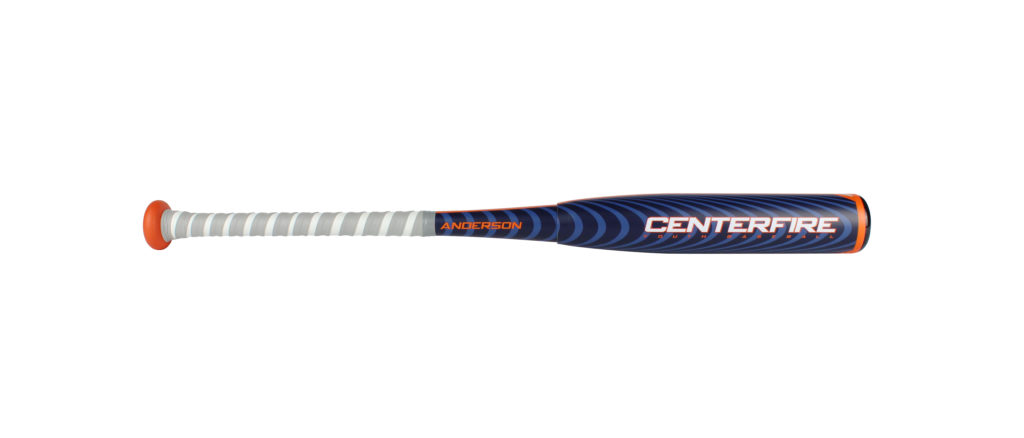 First Impressions
Nice, simple looking bat. Grey, orange, and blue colors (especially cool if you're a Mets or Broncos fan), tied in with a 2-tone grey and white grip. This bat is definitely not flashy, and seems to go the route that many bat companies are now going, in that over-the-top flash and graphics are not thought of as overly cool by elite, older travel level hitters. This bat has a business look to it, and most of our hitters appreciated that.
Material/Design
2-piece alloy/composite hybrid.
Weight/Size
Size tested was a 31/26. Actual weight: 25.9 oz. very balanced bat. Swing Weight: Very easy to swing for boys who had already been swinging a -5, and an easy transition bat for those who are working their way down from -8's. Even though the swing weight is quite balanced, there definitely feels like there's enough mass in the barrel to get the bat around and to launch baseballs. It seems like most bat companies are getting the idea that making a balanced -5 that's easy to swing eases the process of having hitters moving down in drop weight (and eventually, to BBCOR), and Anderson has done a very nice job in that area with the Centerfire.
Barrel/Profile
Nice amount of barrel, the barrel and profile of this bat is not completely different than what we'd find on the VooDoo. While it's not one of the ultra long barrel bats like some of the Combats or the XL1, there is PLENTY of barrel length and sweet spot to be had on this bat. Hitters will definitely not have trouble barreling up baseballs with this bat, and it's profile is quite similar to other 2-piece bats that hitters are probably familiar with so transition to this bat from some other brands will likely be an easy one.
Grip
Very comfortable (and somewhat unique looking) 2-tone grip. Not overly thick and cushy (two traits that most high level hitters are NOT looking for in a bat grip), the grip has a nice amount of tack to it and made for very comfortable swings. There is a very small amount of flare down at the knob, so for some hitters who prefer something more, a knob cuff or building up the flare with some tape might be in order. But again, props for going with something different with the 2-tone grip… in the highly competitive world of SL/big barrel bats, that is something that makes this bat stand out a bit.
Performance
we got this bat, BP'd it for a short time, and it wound up getting tournament day AB's right off the 'bat' (sorry, couldn't resist). The performance and distance of this bat is quite good, and certainly what you'd expect from a high level big barrel bat. Well struck balls had a very cool ceramic type sound coming off the barrel, and the distance of those shots was quite impressive.
The balanced swing weight and VERY accurate actual weight made it easy for our hitters to get this bat through the zone, and some hitters commented that they really liked the stiff feel of the contacts made with this bat (especially impressive, due to the fact that it's a 2-piece). Ultra flexible 2-piece bats have (for the most part) gone the way of the dinosaurs and most bat companies are making their 2-piece bats stiffer, so they feel more like a 1-piece but still having the benefits of the 2-pices. Anderson has done a stellar job here, and has created a very nice/stiff feeling 2-piece bat.
Durability
For the short time we've had this bat, it's holding up VERY well. A minimum of scratches, scuffs, and ball marks, the paint/finish on this bat appears to be very durable. The very cool 2-tone grip is holding up well too, and our hitters hope that continues as they really like the looks and feel of it.
Overall
Anderson has put together a really nice bat, here. Swing weight is balanced, actual weight is VERY accurate, performance is very good, sound is very cool, and the stiffness of this bat was a big hit with those who took it up to the plate. While it's always important to pay attention to the finer points of any bat that's going to be used by a travel ball hitter, when you start moving down to the lower drop weights extra care must be taken to make sure bat/swing speed and overall hitter performance don't suffer.
IMO, Anderson has addressed all these points quite well with the Centerfire… balanced swing weight, accurate actual weight, performance, stiffness/feel, grip, this bat hits up all of what we look for in a -5 bat, and is definitely a bat that deserves to be considered when -5's come into a hitter's picture.
Want more reviews? Check out all our Baseball Bat Reviews >