Possibly the best known of the XL/extra long barrel bats, perhaps no other bat sparks as much debate about performance and weighting as the Easton XL1. What's truth, and What's hype? We took one onto the diamond to find out, and here's what we found.
First Impressions
Classic Easton Power Brigade. Perhaps no other bat is as immediately recognized at the plate, I'm sure Pirates and Steelers fans were ecstatic when this bat was first released. It's classic, it's cool… everyone knows when someone's bringing one to the plate.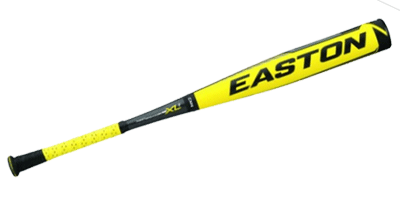 Material/Design
2-piece composite.
Weight/Size
Size tested was a 30/22 (-8). Actual weight was 24.3 oz. Yup, the stories are true. This bat was 2.3 oz. over sticker weight, and unlike some other bats that we've tested that were slightly overweight (none of them near 2.3 oz. over, though), you felt every single overweight ounce.
Swing Weight
Very end-loaded, and very heavy. This bat swung heavier than some -5's we've used, and there's absolutely no way around the fact that if you have an end-loaded bat that's 2.3 oz. over sticker weight, it's gonna swing VERY heavy. We had boys who were used to working with wood and BBCOR in the cage, and in their other work, comment that this bat just felt end-loaded and heavy. It absolutely forces the hitter to work to get this bat around, start his swing early, and gives very little room/time for last second pitch adjustment.
Unlike other bats we've tested that were slightly overweight, you felt every single overweight ounce.
Barrel/profile
Very long barrel, with the barrel going a good deal down the taper. The connection piece is also very far down towards the handle, so it absolutely doesn't interfere with the hitting area of the bat. No way can a hitter claim that there's not enough barrel on this bat, the only ones that can compete with this are the -8 and -5 Combats.
Grip
Bat uses Easton's Diamond Pattern Grip. It's nice for those who don't like their grips too thick and cushy, doesn't feel that different than the Lizard Skins 1.1 mm grip, but we had some durability issues with it fairly quickly as the top rubber-like layer started peeling off the grip. Kinda hoping for a little more quality from a grip on a $300 price range bat, it looks like this one will need a Lizard Skins replacement very quickly. No flare at the knob so add a knob cuff if that's what you like, or build up the flare under the Lizard Skins grip that this bat will quickly need.
Performance
Really can be all over the place, with this bat. Squared up shots with very fast bat/swing speed were launched very far, but here's where the combination of endload and overweight comes into play. Because of the weight factors while it's not particularly hard for very strong hitters to connect with good bat/swing speed on moderate fastballs and launch them, facing very fast pitching and/or facing good breaking/off-speed stuff can present a problem. Slower swing speeds and slower reaction times can be the result, and a corresponding decrease in success at the plate and contacts that don't get max distance were seen too. If a hitter absolutely owns the pitching at the level that he's playing, has great mechanics, and great bat/swing speed, this bat can definitely benefit him… for others, it can be a challenge. Sound off the bat is very nice with the traditional Easton composite 'crack', but most every hitter said that it felt like this bat needed a lot more break-in to feel game ready. I would definitely say that the XL1 is definitely not a bat to unwrap and immediately use on tournament day.
Durability
Hundreds of hits on it, and nothing more than the normal scrapes, scratches, and ball marks. Bat actually looks a little meaner now that it's little scuffed up, and has lost some of that bright bumble bee look.
Overall
Straight up, this bat is very overweight (more than 2 ounces over sticker) and very endloaded. Like I said before, if your hitter absolutely owns the pitching he's seeing this can be an effective bat for him. For many/most hitters who are trying to learn how to succeed against pitching that is continually getting better/faster/better location with a greater percentage of effective off-speed and breaking pitches, this bat might not be the best choice as it takes a lot more to get it around quickly and is harder to make last second adjustments with it.
See all our bat reviews.