Truth be told, I'm kind of a baseball purist when it comes to gear. I believe gloves should be made of leather, I like stirrups, and have always thought that a standard round knob baseball bat was the way things were and should be. When I found out that several MLB players had started swinging wood with Axe's handle technology my curiosity was peaked, and I thought maybe the baseball world hadn't paid enough attention to this design innovation. When I got a chance to check out Axe's new BB/SL -5 composite/alloy hybrid, I jumped at the chance. We put some cuts on it, swung it a lot to get the feel for Axe's handle technology, and here's what we found.

First Impressions
Great-looking bat. Kind of a teal blue color with black logos and accents, the design is very simple and uses a color that has not already been used to death in the high end bat world. The grip uses the same 2-tone teal and black motif, and ties in great with the rest of the bat. All our hitters who checked it out, had the design and colors as a big win.previous model Combats).
Material/Design
2-piece composite handle/alloy barrel hybrid.
Weight
Weight tested was a 31/26 (-5). Actual weight… 26.3 oz.
Swing Weight
Incredibly balanced, and insanely easy to swing for a -5. This would make a great choice for any hitter making the transition to a -5, and no problem for any good travel ball hitter to get around.
Barrel/Profile
Extended barrel bat, very similar to the profile of a DeMarini VooDoo or CF6. Plenty of barrel available to
make quality contacts, and the connection piece is far enough down the bat to not interfere with those contacts.
Grip
Super comfortable factory grip, feels very similar to the Lizard Skins 1.1 mm grip that many of our hitters favor. Always nice when a company selling a premium bat takes the initiative to install a premium grip on it, and our hitter's hands stayed happy no matter how many swings they took with it. Because of the Axe handle technology on the bat, the handle conforms to the hand so absolutely no need for a knob cuff or to build up the grip at the knob.
Axe knob technology
This is something I thought I must add, as that's what makes this bat (and all Axe bats) unique. Now I'm not just going to repeat what you can read on Axe's website about the Axe handle benefits and how it protects the hamate bone, as I thought it far more beneficial to tell you what our hitter's thought about the Axe handle simply from swinging it rather than just repeat what you can read elsewhere. Most every single hitter who swung this bat said that the Axe handle made this bat quite possibly the most comfortable bat they've ever swung, and not a single one said that it felt the least bit awkward. It's quite amazing how the bat just seems to fit your bottom hand, and it doesn't feel completely different than grabbing a tennis racquet handle in exactly your size. The Axe handle doesn't just feel like it fits in your bottom hand perfectly, it also gives you the feel of pinky wrapping/dropping without having to do so and lets you get through your entire swing (through follow through) without ever having the knob interfere with your swing.
Length and Swing Side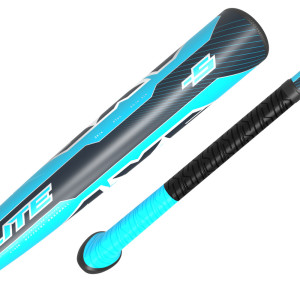 Because of the design of the Axe handle you might want to consider moving up in bat length by 1", as our 31" swung more like a 30.5" (don't worry about the extra ounce of bat weight, as this bat is so balanced it's extremely unlikely that you'll ever notice it). Also, because you don't rotate the bat like we're used to with other composites and alloys, this bat is designed to be hit on one side. It's another concept that may sound foreign to some, but for the guys who are used to swinging wood (always with the label up, as to make sure that we hit on the edge of the grain), this is certainly nothing new.
Performance
What's a well designed handle if the bat doesn't perform, right? Well, so far this bat has not disappointed. Well struck balls are greeting with an impressive 'ping', and exit speed on those well struck balls has been impressive (due to the fact that our season had ended by the time we received this bat we haven't had it out for any field time/game use yet, so I can't give you any distance comparison). It's a hybrid 2-piece so it is forgiving on negative feedback to the hands, but not so flexible and 'soft' feeling that there any of that numb feeling that leaves the hitter wanting more feedback. The balance of this bat has to be mentioned in with its performance as it allows the hitter to swing a -5 with great bat/swing speed, and the Axe handle feels like it allows a very smooth and powerful swing through the ball that is never impeded by the knob getting in the way. We got this bat to late in the season to be able to pull it out at any tournaments, but several of our hitters say they can't wait to see what this bat can do on gameday. In some ways it feels like a more balance DeMarini VooDoo, with an incredibly comfortable handle (profile is very similar to the VooDoo, as well).
Durability
So far nothing more than some normal ball marks from the hundreds of cuts we have on it so far, and the grip is showing no wear. Our hitters are hoping this grip continues to hold up well, as it's been a big hit and is super comfortable.
Overall
I'm really surprised how much I and my hitters really like this bat. The handle is incredibly comfortable, the bat is incredibly balanced and easy to swing, and the performance is what you'd expect from a high end composite/alloy bat. Several of our hitters are extremely anxious to see what this bat can do on tournament day, and I'm sure it will get quite a few more swings on it during the off-season as we anxiously wait for our tournament season to begin. Overall I'd have to say "well done" to the guys at Axe for having the guts to do something a little different in the bat world (and avoiding any gimmicks, in the process), and I think Axe Bat has definitely created something well worth checking out.
Check out the Axe Bat discussion in our forum, or take a read of all our bat reviews.