Ruth Overview
Ruth states that they are "founded from a desire to produce a better wood baseball bat," and that their President, Bill Ruth, spent "countless hours" researching materials before deciding on European Beech and Hard Maple.
According to the company, they imported their Beech wood because they believe it is the perfect material for baseball bats: denser, more elastic, and more durable than traditional materials. It "sounds and feels different, and simply performs better than other woods."
In addition to Beech, Ruth also produces Hard Maple bats. Unlike the imported European Beech, the Hard Maple is readily available right in their own backyard up in the Northeast. This Hard Maple, they claim, will not dent, flake, or splinter which results in a "longer lasting, better feeling bat with more pop than Ash."
Ruth states that their bats are "crafted from only the highest quality wood available," and come with their "30-30 Warranty," which you can read more about below.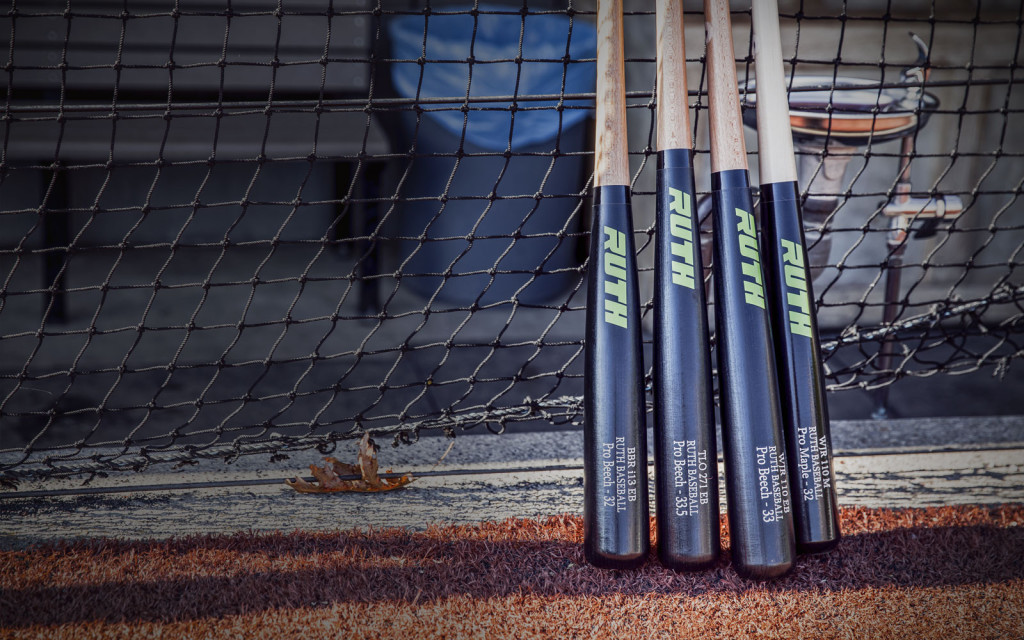 Ruth currently offers their six most popular models of European Beech and Hard Maple bats. In addition, they also sell youth and fungo bats.
Prices for Ruth bats range from $69 for Beech fungo models and up to $159 for ink-dot MLB quality Beech bats. Custom colors are available – just email them and ask.
Ruth Bat Directory:
Pro Elite Series European Beech
271, 110, i13, 141, 73, 243 – $159
Pro Elite Series Hard Maple
271, 110, i13, 141, 73, 243 – $129
Pro Series European Beech
271, 110, i13, 141, 73, 243 – $109
Pro Series Hard Maple
271, 110, i13, 141, 73, 243 – $89
Youth Series
175, 607 – $109
Fungo Bats
F1, F2 – $69
Ruth Baseball Bats Return Policy
Ruth believes their bats are made of the "finest materials available" and that they should last for "thousands of swings." But you can purchase a $30 warranty (which is also credited towards a future purchase of another Ruth bat) that allows you to replace the bat if it breaks within 30 days. So if you do happen to catch a bad pitch, they won't leave you disappointed.
They call this their "30-30 Warranty," and here's how it works, in their own words:
Buy your 30 day warranty at the time of purchase for $30. The 30-30 Warranty is only available at the time of purchase. If your Ruth breaks in the first 30 days of ownership Ruth will replace it for free. Simply report your broken bat to them and they will ship you a one time replacement bat of the same model and length free of charge. The 30-30 Warranty includes only bats broken while being used for their designed purpose – that being hitting a regulation baseball with a traditional baseball swing. Ruth may request photos of the bat to determine the cause of failure. All 30-30 Warranty purchasers will receive $30 off their next full priced bat. Because Ruth applies the full cost of the warranty to your next full-priced purchase, your coverage is essentially free.
Want updates on Ruth Bats and other new and great bat brands? Sign up for our email list so you won't miss a thing!