Akadema Overview
Akadema was founded in 1997 under the name Academy by brothers Joe and Lawrence Gilligan, who is a former minor league baseball player.   The name was changed to Akadema in 2000 during a period of rapid company growth after the release of their first baseball glove.  While Akadema got their start making high end baseball gloves, they have made a strong push into manufacturing top quality Akadema baseball and softball bats.
Akadema bats began with Amish wood bats hand made by Amish craftsman which were among the most popular bats in Akadema's product line. Among Akadema's wood bats, you'll find top quality bats made from Northern White Ash, Maple and Rock Maple. Many of Akadema bats like the A843 Pro Level White Ash bat are made from "A" grade Northern White Ash harvested from the New York-Pennsylvania Appalachian Forest. The most popular of these were the M643 Amish Series Elite Maple bat and the M681 Elite Professional Grade Amish Maple bat are high-quality wood bats that have broad appeal. Other Akadema bats in this line included the A5 Amish Series A543 Elite Professional Grade and the A529 Amish Series Elite bat.
They now have their own wooden bat shop at their base location of Hawthorne, New Jersey, and experiment with different styles of metal bats each year.  They are one of less than 30 companies whose bats are approved for play in MLB.
Akadema is known for their continually innovative designs while consulting with the pros to make the best product possible.  Their bats are made with the professional player in mind and prices range from $29.99 – $299.99.
Akadema Bat Directory

2015 Akadema Wood Bats
A510 Elite Wood Ash Bat, $69.00
A529 Elite Wood Ash Bat, $69.00
A543 Elite Wood Ash Bat, $69.00
A571 Elite Wood Ash Bat, $69.00
A581 Elite Wood Ash Bat, $69.00
A829 Pro Wood Ash Bat, $49.00
A843 Pro Wood Ash Bat, $49.00
Ash Blem Bat, $34.99
Bamboo-Maple Hybrid, $74.99
Fungo Bat, $34.99
M610 Hard Maple Bat, $99.99
M643 Tracktion Hard Maple Bat, $99.99
M671 Hard Maple Bat, $99.99
M681 Tracktion Hard Maple Bat, $99.99
M688 Hard Maple Bat, $99.99
Maple Blem Bat, $44.99
Softball Bat, $44.99
Youth Wood Bat, $29.99
2015 Akadema Metal Bats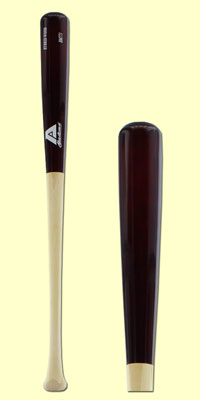 The Deep BBCOR Bat, $299.99
The Deep BPF Bat, $224.99
For last year's and previous year's models, check out our Akadema Baseball Bats archive.
Want to know what other people think about Akadema bats?  Discuss on our forum!
Akadema Bats Return Policy
Items from Akadema will be either repaired or replaced under warranty, if warranty applicable (warranty does not apply to wooden bats).
For the full return policy, check out the Akadema Bats Return Policy Page.
Want updates on Akadema bats and more? Sign up for our email list so you won't miss a thing!