Sammy Sosa's Corked Bat
June 3rd, 2003 – Sammy Sosa gets caught with a corked bat. He claims it was a mixup – that he grabbed the wrong bat. He claimed that he often uses corked bats during batting practice for the pleasure of the fans.
George Brett's Pine Tar Incident
On July 24th,  1983 (we recently celebrated the 30th Anniversary) at Yankee Stadium, George Brett of the Kansas City Royals hit a 9th inning home run off of Goose Gossage to give the Royals a 5-4 lead.  After the home run, Billy Martin (Yankees Manager) approached umpire Tim McClelland to protest the fact that there was too much pine tar on the baseball bat. The MLB rulebook states that:
"The bat handle, for not more than 18 inches from the end, may be covered or treated with any material or substance to improve the grip. Any such material or substance, which extends past the 18-inch limitation, shall cause the bat to be removed from the game."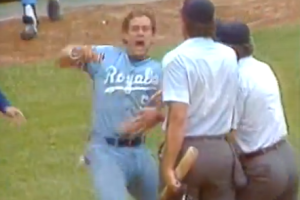 The bat was measured, found to have pine tar more than 20 inches from the end and Brett was called out. Brett leaped from the bench in a furious fit and ran toward the umpire and Martin.  Brett was ejected, the home run was nullified and the Yankees won the game 4-3.  The game was protested and AL President Lee McPhail ruled the home run should have counted,and that the game was to be resumed.
Three and a half weeks later in front of 1,200 fans, the Royals won the game, with Dan Quisenberry finishing the Yankees in only 12 minutes.
Albert Belle's Corked Bat
In the first inning of a 1994 Indians-White Sox game at Comiskey Park, White Sox manager Gene Lamont challenged that Albert Belle was using a corked bat. Umpire Dave Phillips took Belle's bat and put it in his locker for inspection after the game. The Indians (so the story goes..) knew his bat was corked, and sent pitcher Jason Grimsley climbing through the ceiling of Comiskey Park and into the umpires locker room, where he switched the corked bat with another bat. The problem was that he replaced it with Paul Sorrento's bat which was clearly marked with his name. The umpires spotted the switch immediately, and told the Indians as long as they provided Belle's original bat, they would not be punished for the stunt. They provided the bat, and Belle was suspended for 7 games for his corked baseball bat!
Find out what materials bats are made out of.
See also: Famous bats that helped make history and set records.
Like this? Then check out our article about bats that made history.